This product is a new shoe model launched by XHEYDAY, using the silhouette design which is prevailing in the fashion trend market. It incorporates the wavy lines in the midsole of the shoe, perfectly interpreting the exclusive brand design language that belongs to XHEYDAY. Its retro and flamboyant style is one of the most unique in the contemporary footwear field. Simple matching can bring out a sense of high-end fashion styling, and it is an essential item for daily wear.
The shoes use black and white as the main colors, equipped with caramel-colored raw rubber soles, endowing the shoes with a strong retro-trendy vibe. The upper is covered with a large area of canvas, suede and leather, which is refreshing and breathable but also full of texture. The most eye-catching design is undoubtedly the slightly distressed wavy midsole, which is echoed by the twisted brand logo on the side of the shoe, creating a rich layered look.
The shoes are visually striking and recognizable as a whole. The rounded body, wide laces and full tongue have the visual effect of heightening and modifying the leg shape. The leather insole, towel fabric lining and soft sole provide a highly comfortable wearing experience and a light and agile feel.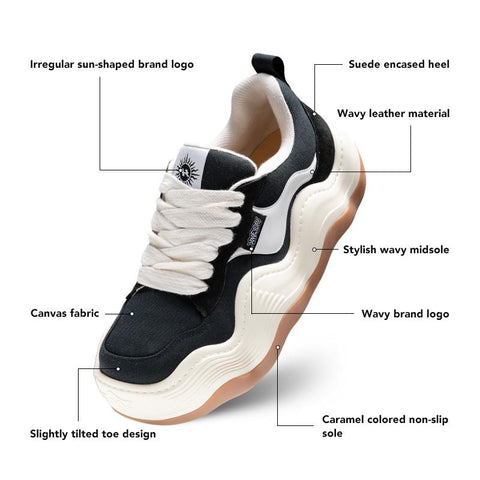 100% handmade

Silhouette design concept

Slightly tilted toe design

Canvas, suede, and leather upper

Stylish wavy midsole

Wear-resistant sole with non-slip sole design

Lightweight and comfortable to wear

The visual effect of heightening and modifying the leg shape